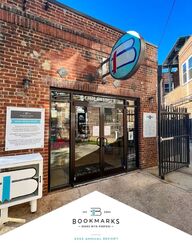 Return to flip book view
Bookmarks 2021 Impact Report
Page 1
Page 2
17THAnnual Festival of Books & Authors Sept. 22–25, 2022BOOKSTORE 5 YEARCELEBRATIONJuly 08–10, 2022MARKYOUR CALENDAR
Page 3
DEAR READERWHAT A DIFFERENCE A YEAR MAKES!At the beginning of 2020, Bookmarks had never hosted a virtual event. By early 2021, we had reached more than 6,000 people through 150 virtual programs. A few highlights of 2021 include the national book launch of John Hart's new novel, The Unwilling, with a virtual conversation featuring Hart and New York Times bestselling author Patricia Cornwell. We were also chosen as one of only a few bookstores in the country for the virtual tour of Kristin Hannah's The Four Winds. In September, we were thrilled to host our 16th Festi al of Books & Authors and to be able to gather again, safely, to celebrate the love of books and reading. Thank you to our community sponsors and partners (see a complete list on page 11), who helped us host 5,000 in-person a endees from eight states. The festi al featured 51 in-person and 15 virtual authors, including North Carolina author Jason Mott, whose novel Hell of a Book was not only a Signed First Editions Club pick, but also won the National Book Award for ficti this fall. With safety protocols in place, 18 festi al authors were able to visit 26 schools throughout Forsyth County.The inaugural Book with Purpose program launched in May and focused a community-wide e ort to discuss anti acism. With its name taken from our tagline -- Books with Purpose -- this summer reading initi ti e helped spark a dialogue with people of all ages and unite the community. Together with more than 40 organizations including book clubs, schools, and nonprofits, we sparked honest and open conversation about racism and its e ects on our local community and the world. Through this program, Bookmarks donated 3,000 books to local schools and readers.With the philanthropic support we have received, we have been able to culti ate community and increase access to books for people of all ages in Winston-Salem and beyond. I am so proud of the impact that Bookmarks has made over the last two years and through this unprecedented time. Thank you for your support and for believing in the life-changing power of books! Jamie Rogers SouthernBookmarks Executi e DirectorTHANK YOU FOR BELIEVING IN THE POWER OF BOOKS.- JAMIE ROGERS SOUTHERNTop community book club picks of 2021.Featured Festi al author, Judy Allen Dodson visited Easton Elementary and Whitaker Elementary. We donated over 60 of Judy's books to these schools.Book Launch of "Fight Songs: A Story of Love and Sports in the Complicated South" by Ed Southern in September 2021.
Page 4
2021 BOOKMARKS TEAMJamie Rogers Southern, Executi e DirectorBeth Seufer Buss, Program DirectorSara Ahmed, Bookseller Jessica Baker, BooksellerAshley Bryan (frmr.) Mary Louise Callaghan, Bookseller Chyna Cardinez, Summer InternTeresa Dampier, Bookseller Zachary Emerson, BooksellerJose Greenwald (frmr.) Lore Jackson, Bookseller Lauren Kean, BooksellerEllen Linville (frmr.) Caleb Masters, Inventory Manager Lupe Penn, Youth & Schools Manager Juliana Reyes, Communications oordinatorPatricio Camara Rubio (frmr.) Kate Storho , Retail Manager Cat VanOrder, Bookseller Lisa Yee Swope, Bookseller Michelle Yelton, O e Specialist & Volunteer Coordinator EMPLOYEES OF THE QUARTER FOR 2021 Mary Louise CallaghanTeresa DampierJuliana ReyesKate StorhoBOARD OF DIRECTORS 2020–2021OFFICERSBarbara Ra aldini, PresidentJulie Groves, Vice PresidentTanya Zanish-Belcher, SecretaryAndrew Smith, TreasurerMEMBERS-AT-LARGEFrank BrownSusan CongerAndy DreyfussKelly EisenbraunJustin omezBowman GrayJennifer GrosswaldDebbie HarlleeJerri IrbySarah McCoyKate McCurryJackie PiersonPaige RaperRick SimpsonThe Bookmarks Team celebrating the launch of Book with Purpose in May 2021 while wearing the new Karl the Kraken t-shirts.Families completing a Halloween activit from Stacy McAnulty's storytime vent. Chyna Cardinez was Bookmarks' fi st paid intern and was a huge help for Festi al preparation. Thank you to Winston-Salem State for working with us!In June, Bookmarks hosted New York Times bestselling author, Elin Hilderbrand for her new book Golden Girl at Calvary Moravian Church. Elin was in conversation with Sarah McCoy.
Page 5
VOLUNTEERS & CUSTOMERSCarol AtwaterJohn BelcherJoy BlaserJudy BreakstoneJessica BrownAnne CannonLeigh CannonJamie CastleburyKevin Clary Donna CowdenDoug DampierLisa DavisNikki DobbinsStephani EatonColleen EdwardsDeb FidaliVicki FoughtDebbie FoxMelissa GrahamDebi GriffiJennifer GrosswaldPaul GrosswaldMia HandlerSusan HargroveThom HayesMargaret HerringJanice HillanbrandLany HolcombAmy HolmesSamone JacobsDenise JonesKitt JordanMolly KeenerRochelle KramerNancy LaheyTim LaheySarah LancasterEllen LinvilleCharlie LoveJanice LoveEmily MastersSteve McCulloughKate McCurryLois MillerMallie MooreMegan MulderPhilip MulderCailey NeuschaeferShivani PatelSam PearceJackie PiersonKathy PoundsBarbara Ra aldiniTeresa RiggsLynn RoachSue RuppLenore ShameyVictoria SteelmanMike StewartTim StorhoKaren VohsSusan WalkerRuth WilcoxSusan WilesMichelle YeltonPaul YeltonLaura Beth YoungTanya Zanish-Belcher Carey & Darcy Dennison-HarwoodMary DeShazer & Martin JacobiJessica & Doug DudaLaura & Brendan DuganSara FoxJennifer GrosswaldSusan HargroveDebbie HarlleeCindy HartmannLee HatlingWhitney HsuMolly & Greg KeenerMargaret Langford & Austin renchEllen LinvilleStephanie LoveLiz NolandSara Pesek & Rogan KershJackie PiersonAmanda Ste esRachel Stinehel erJane Aiken & Thomas HagertyEdie Barrett & rake DennisIan BurkeKate CondonDonna & Wic CowdenSusan HargroveCindy HartmannMargaret Langford & Austin renchJanice & Charlie LoveCynthia & Danny ThomasJoy BlaserDonna CowdenSam PearceDonna Cowden has been a ti eless volunteer for years. This year she served as co-chair of our Festi al Author Hospitality Task Force; her leadership and hard work made the festi al a special experience for our visiting authors. Donna also volunteered at author events, wrapped presents during the holidays, and showed up almost every week to help with o e work. Thank you, Donna!VOLUNTEERS WHO DONATED SIX OR MORE HOURS IN 2021 TOP 20 CUSTOMERS OF 2021TOP 10 CUSTOMERS WHO MADE ROUND UP DONATIONSFESTIVAL PLANNING COMMITTEE CHAIRS2021 DEBORA D. HARLLEE VOLUNTEER OF THE YEARJason Mott signing Hell of a Book for our Signed First Editions Club in July. He won the National ook Award for Fiction or a Hell of a Book.Bookmarks hosted the book launch of Yoke: My Yoga of Self-Acceptance by Jessamyn Stanley in June. She was in conversation with poet, E'laina Barron.A team picture from the 2021 Preface Party where all of the featured Festi al authors were announced.
Page 6
The Book With Purpose summer program was created in 2021 to unite the Winston-Salem community over the summer with a one-read initi ti e for all ages. Building on our organizatio 's tagline, Books with Purpose, we wanted to bring awareness of the important role books play in our understanding of the world around us. With this initi ti e, we plan to focus on a new theme each year and include a recommended reading list for all ages. In 2021, the theme was anti acism. Our goal was to connect people from all walks of life in meaningful discussions about racism and anti acism through a variety of book club talks, author conversations, panel discussions with community leaders, and more. Through this program, we worked with 40 organizations,including Action4 quity, a/perture cinema, the Arts Council of Winston-Salem and Forsyth County, Black Philanthropy Initi ti e, Crossnore Communities for Children, Delta Arts Center, Family Services, Forsyth County Public Library, Hispanic League, Imprints Cares, Knollwood Baptist Church, LEAD Girls of NC, Libro.fm, Winston-Salem Chapter of The Links, MUSE Winston-Salem, Piedmont Environmental Alliance, The Foundation for Prosecutorial Accountability, Read Write Spell, Reynolda House, Rise & Flow, RiverRun International Film Festi al, Salem Academy & College, Salemtowne Reti ement Community, Spatial Justi e Studio at Winston-Salem State University, The Speech Bus, St. Paul's Episcopal Church, Triad Cultural Arts, Triad Restorati e Justi e, Wake Forest University School of Law, WillHouse Global, Winston-Salem Alumnae Chapter of Delta Sigma Theta Sorority, Winston-Salem/Forsyth County Schools, The Winston-Salem Foundation, Winston-Salem Symphony, and The Women's Fund of Winston-Salem. Using the works of Dr. Ibram X. Kendi and Jason Reynolds as a starting point, we launched discussions throughout the community. We raised money to donate 3,000 copies of Stamped from the Beginning, Stamped: Racism, Anracism, and You, Stamped for Kids, and Anracist Baby to Winston-Salem/Forsyth County BOOK WITH PURPOSE &EVENT HIGHLIGHTSOur closing Festi al Keynote was Yusef Salaam at the Central Library. This wrapped our Book with Purpose conversation on a ti acism. He was in conversation with Brian Hart, Director of the Forsyth County Public Libraries.
Page 7
schools, non-traditional schools, colleges and universities, and our community partnering organizations. Multipl copies of each book went to each of the 10 Forsyth County Public Library branches, and Libro.fm donated 300 audiobook copies of Stamped for us to distribute. We also were able to get large print versions and Spanish language editions into the community. We loved the shared journey everyone took through the summer with this program, and we look forward to the 2022 Book with Purpose, which will focus on the theme of mental health. At the end of September, we were thrilled to bring back the annual Festi al of Books & Authors for the 16th time. Though on a much smaller scale and with many restrictions, the festi al was a huge success and it remains the largest annual book festi al in the Carolinas. We featured 51 authors in person on four stages and pre-recorded virtual author conversations with 15 authors on a fift stage. Authors included National Book Award winner Jason Mott, National Book Award finalist Lauren Gro , Newbery Medal winner Linda Sue Park, bestselling horror writers Grady Hendrix and Stephen Graham Jones, and book club favorites Anne Bogel and Wiley Cash. Despite COVID-19 restrictions, we were able to bring together panels of authors to discuss genres such as romance and fantasy and o er storytimes and book-themed crafts and activitie for children and families. The festi al site accommodated 50 exhibitors, including self-published authors, publishers, nonprofits, and community groups, as well as local food trucks. Eighteen authors visited 26 schools on Friday, and we donated more than 500 books to students. We had 5,000 in-person a endees from eight states on Saturday and recorded several of the panel discussions, which are available to view on artarie.com/bookmarks.The weekend ended with our closing keynote presentation, which was held at Central Library with Dr. Yusef Salaam, who was one of fi e people exonerated in the Central Park jogger case in New York. Dr. Salaam discussed his new memoir, Beer, Not Bier. The program also served as our closing program of the Book with Purpose summer initi ti e.Book with Purpose booksBookmarks volunteers who built beds for A Bed and a Book in July. Bookmarks donates multiple books or every child who receives a bed throughout the year.
Page 8
TOP BOOKS OF 2021TOP 5READ BY COMMUNITY BOOK CLUBSTOP 10BESTSELLING FICTION BOOKSStamped: Racism, Anracism, and You by Jason ReynoldsThe Vanishing Half by Brit BenneThe Midnight Library by Matt aigThe Book Woman of Troublesome Creek by Kim Michele RichardsonHamnet by Maggie O'Farrell82.1% adult authors17.9% children's & YA authors26.7% in person57.7% virtual15.6% hybrid (in-person and virtual)Raised in round ups with a total of 10,932 individual donaons made by 6,988 individualsThe Four Winds by Kristin annahGolden Girl by Elin HilderbrandThe Final Girl Support Group by Grady Hendrix Hell of a Book by Jason MoThe Duke Undone by Joanna Lowell The Love Hypothesis by Ali HazelwoodWhen Ghosts Come Home by Wiley CashThe House in the Cerulean Sea by TJ Klune The Vanishing Half by Brit BenneKlara and the Sun by Kazuo Ishiguro140AUTHORS HOSTED IN 2021116EVENTS HOSTED IN 2021$23,254.45TOP BOOKS OF 2021
Page 9
TOP 10NONFICTION BOOKSTOP 10CHILDREN'S/TEEN BOOKS books were donated by Bookmarks to schools and nonprots for a total monetary value of $80,963.64was given in gi cards to organizaons for fundraisers and silent auconswas saved by schools and organizaons on 6,460 books ordered from Bookmarkspeople who opened a new Bookmarks account in 2021Beer, Not Bier by Yusef Salaam Fight Songs by Ed Southern Dusk, Night, Dawn by Anne Lamo Atlas of the Heart by Brené Brown Yoke: My Yoga of Self-Acceptance by Jessamyn Stanley Caste: The Origins of Our Discontents by Isabel Wilkerson The Hill We Climb by Amanda GormanCall Us What We Carry by Amanda GormanNo Cure for Being Human by Kate Bowler Empire of Pain by Patrick Radden Keefe Dog Man: Mothering Heights by Dav Pilkey Beasts of Prey by Ayana Gray Change Sings by Amanda Gorman The Going to Bed Book by Sandra Boynton Mars! Earthlings Welcome by Stacy McAnultyThe Snowy Day by Ezra Jack Keats Cat Kid Comic Club by Dav PilkeyBodies are Cool by Tyler FederEvery Lile Leer by Deborah UnderwoodShadow and Bone by Leigh Bardugo6,179 $1,450 $17,799.61 4,699 partnerships with community groups, non-prots, and businesses65
Page 10
INCOME & EXPENSESYear two of the pandemic included virtual events for the fi st half of the year and a slow transition back o in-person programming in June. Thanks to the ongoing support of readers in our community, the bookstore is functioning xactly as we had hoped – as an alternati e revenue stream for our nonprofit and a f ee space to hold our events and meetings. ook sales allow us a reliable cash fl w and have allowed us to increase our donations o the community and schools. Though we do not make a profit on the books ore, we are proud of the work that has been accomplished because of its existence. Over the past year, we have been working with a strategist and development professional to help guide us with a new strategic plan and to forge a path forward for fundraising and organizational g owth. We have big plans for this year and hope that 2022 will allow us more tim to gather in person and get back to pre-pandemic large-scale events that are strong fundraisers for Bookmarks. TOTAL 2021 GROSS REVENUEBOOK SALES: 55%ROUND UPS & PRIVATE DONATIONS: 22%ONE-TIME COVID-19 RELIEF: 8%SPONSORS: 8%EARNED & OTHER INCOME: 7%TOTAL 2021 EXPENSESPROGRAM SERVICES: 67% STORE: 40% PROGRAMS: 60%MANAGEMENT : 32%FUNDRAISING: 1%2021 FINANCIAL OVERVIEW55%22%8%8%7%67%60%40%32%1%
Page 11
FOUNDATIONS AND CORPORATE SUPPORT$30,000+Anonymous$15,000+AnonymousThe John W. and Anna H. Hanes FoundatioNorth Carolina Arts Council$10,000+AnonymousBINC FoundatioLovett oundatioMillennium FundTwin City Development Fund$5,000+The Arts Council of Winston-Salem and Forsyth CountyPfe erkorn FoundatioRobert A. and Constance C. Emken EducationFund$2,500+Action4 quityBill and Cynthia Tessien Charitable FundSara Smith Self Foundatio$1,000+Allegacy Community Improvement Fund (Pink)ARC FundDelta Sigma Theta Sorority, Inc. Winston-Salem Alumnae ChapterDreyfuss Family FundThe Filipowski-Race Family FoundatioGLC FundKurtz Family FoundatioMichelle and Alex Schenker Advised FundPaula Stober and Willard Bucklen Charitable FundStrickland Family FoundatioWilliam M. Hendricks Family Foundatio$500+Ann and Herbert Brenner Charitable FundThe Bill and Eileen Blancato FundHatchell Charitable FundMiranda Family FundMr. and Mrs. William R. WatsonThe Nedvidek Family Giving FundThe Philocalians$250+The Kathleen Ausen FundThe Pohl Family Fund$100+Bombick-Reed FundDudley Shearburn Literary SocietyEpiphany Lutheran ChurchGary and Margaret Herring Charitable Giving FundGayle Anderson/Corey Hedgpeth FundJames A. Gallaher Family FundJim Hanes FundJonathan Halsey Charitable FundJuran Family Giving FundKaren VohsKathleen Ausen FundLee and Robin Woodard Advised FundMarina and Wesley Davis FundNikolas Patrick Beck TrustPage Reader Book ClubReynolda Rotary Benevolence FundRichard and Nancy Sullivan FundWaldrep Wall Babcock & Bailey PLLCWhitaker DesignsWomen's Club of Winston-SalemZ. Smith Reynolds Foundatio$50+Beta Nu Chapter of Delta Kappa GammaDave Clark and Susan Wilson Charitable FundOnehopeSPONSORS$7,500+Dewey's BakerySalemtowne Reti ement CommunityWake Forest University$5,000+Inside the Writer's Studio with Charlie LoveLowe's FoodsSalem Smiles OrthodonticSarah McCoy, AuthorWells Fargo$2,500+Appalachian State University Academy at Middle ForkDebora D. Harllee in Memory of Victor F. Harllee, Jr. Forsyth Country Day SchoolThe Foundation or Prosecutorial Accountability ProjectGarner FoodsKilpatrick Townsend & Stockton LLPLMI BuildersNorth Carolina Writers' NetworkPoppyseed ProvisionsSalem Academy & CollegeSummit SchoolThe Winston-Salem Foundatio$1,000+Black Philanthropy Initi ti eDebora D. Harllee Hispanic LeagueMast General StoreRenewable Energy Design GroupWilkinson ERAWinston-Salem United Jewish AppealWomen's Fund$500+Nova Triad HomesRa aldini VineyardsThree MagnoliasBarefoot TransportatioLinda BeBecky BrownLilly BunchCalvary Moravian ChurchCorinne and Forrest CausbyChristine avisJean DavisJennifer GrosswaldJulie GrovesDebbie HarlleeLee HatlingJulie and Warren Hu onKitt JordanColleen LanierStephanie LoveEsharan Monroe-JohnsonMegan and Philip MulderKatheryn NorthingtonJackie PiersonKathy PoundsBarbara Ra aldiniRa aldini VineyardsAnna Reilly and Matth w CullinanMike StewartRachel and Danny Stinehel erBetsy TrentBetsy TuckerLara WilsonIN-KIND SPONSORS & DONORSTen schools received $500 shopping sprees to Bookmarks to augment their media resource centers
Page 12
INDIVIDUAL DONORS$5,000+Karen Buss Judith EmkenJanice & Charlie LovettSarah McCoy & Brain Waterman Janice MullinSusan Pfe erkorn$2,500+Jean Davis Jennifer & Paul GrosswaldDebora D. HarlleeAdrienne Amos LivengoodKathy & David PoundsMichelle & Paul Yelton $1,000+AnonymousWendy & Mike BrennerShelby & Lee ChadenClaire & Hudnall ChristopherCaroline B. CooneyGrace CullinanJacqueline R. DanielsDeena & Andy DreyfussColleen Edwards Jennifer FilipowskiKatie & rad FowlerClaire & Sam GladdingBowman GrayCaywood HendricksJulie & Warren Hu onAnnie JenkinsKitt & Chuck JordanSequoya Killebrew & Jaysen WilliamsMr. & Mrs. Arthur KurtzSue Ann LangfiJoe LoganJan McManusMary NewsomeSarah PetersonJackie & Jim PiersonBarbara Ra aldiniAnna Reilly & Matth w CullinanJoy & Jim RochesterNancy RussoMichelle & Alex SchenkerBeth Seufer Buss & Clint BussLenore ShameyJamie & Ed Southern Paula Stober & William BucklenCinny Strickland GrahamGail Zimmermann$750+Eileen & Bill BlancatoTeresa & Doug DampierAmy & Robert EgglestonKelly EisenbraunJodi & Robert LinganRachel & Danny Stinehel er$500+AnonymousAlice & Russ AndersonCarly Cohen & Aaron BlynnAnn & Herbert BrennerFelice & Richard Brenner Susan & Jack Campbell Martha & Ray Chamberlain Rabbi Mark CohnSusan & Mark Conger Donna & Wic CowdenLinda DuBoseEmily FletcherDebbie FoxJulie GrovesJane & Redge HanesSusan HargroveMarge & Dennis Hatchell Amret HawfieldTina & Brian HeelanBillie HowellCarol IngramAnnie JenkinsPam & Fred KahlBill KaneMolly & Greg Keener Denise KiernanMartha & Ernest Logemann Kate & Charles McCurry Deborah & James McDowell Susan & Steve Nedvidek Sam & Marc Pearce Sara Pesek & Rogan Kersh Ken RhinehartEmily & Andrew SmithJanet & Robert Stout Brooke SuiterKendall & Stephen Tarte Marybeth & McLain Wallace Judy & Bill WatsonVirginia Weiler$250+Nigel AlstonDavid ArcherSara Ardrey-Graves Katherine & Tony Atala Carol AtwaterKathleen AusenPam & Bill BallBetsy Barre & Justin Esarey Joy BlaserHanes BorenFrances BrennerLilly & Al BunchNicole CahillZachary ClaytonMargaret Couch & Tod Serfass Gail CurtisCarol & John DanforthMary Ann DavisPhyllis DunningSara FoxHollie & Justin omezGinger Hendricks & Heath CombsMaria JessupRebecca JohnsonKimberly & Charles ManerKim MannDianne & Barry MillerMegan & Philip MulderRandy NorrisNancy PajewskiElizabeth PohlTim ProutLisa & Cli PurcellPaige & James RaperJoan Reid & John Montgomery, IIISusan & Stephen RobinsonNancy & Andy SchneiderSara and Bruce SmithSandra SteeleKate & Tim StorhoNancy & Richard SullivanPatrick SweeneyPaula Tra asBetsy TrentMike TylerJoy & Jack Van ZandtLaurie & George WhitakerEileen Wilson-Oyelaran & Sope Oyelaran$100+AnonymousLindsay & Regan AdamsonJames Allbri enGayle Anderson & Carey HedgpethGinger BaldwinCynthia Barber Faye Barbour Bett & Richard BarneKaren BarnhillEdie Barrett & rake DennisKim BerlinLinda BeJessica BlackstockMarianne BlakeMary & John BoltonBetsy & David BombickBetsy BoydBecky BrownElaine Butler & Christopher CookBuck ByrumMatth w CallowayJennifer CampbellAnne & Glen CannonBookmarks 9th Annual Movable Feast featured 16 authors.
Page 13
INDIVIDUAL DONORSJane & Richard CarmichaelJoan CelestinKevin ClaryMary Pat & Daniel CowanJudy CrowCharlene CurtiSarah & Tom DalrympleChristine avisLisa DavisMarina & Wesley DavisRebecca DensonBonnie DoerrMary Ann DolisterEllen & John DoyleDolly DudleySusan EdgeAshley Edwards & Ralph WombleArlene Edwards ThompsonSuzanne EpermanisKatie ureLynn Felder & David RockwellGail FisherJennifer FisherAlison FlemingThomas FrankCarolyn FultonJim GallaherRachael GarrityBarbara GarhardTed GoinsWanda Grantham & David FormisaniThomas HagertyPeter Hairston, Jr. Jonathan HalseyErin & Brain HandlyMr. & Mrs. Borden Hanes, Jr. Bett & Charles argraveKatie artFrances Hubbard HayesCarole HillerRosalie HortonThe Hussey FamilyAdele & Francis JamesSharon JoheJean M. & Kenneth S. JohnsonSusan JonesDana & Darrin JordanBeth JuranCynthia KeigerPenelope KilpatrickSandra KopchikRochelle & Stephen KramerDonna KronnerEllen & Michael KutcherNancy & Tim LaheySarah LancasterColleen LanierVicki LathamDonna LawlerTaylor LintzBarbara LuffmaEllen & Steve McCulloughByah McGeeTyrone McLaughlinWendy Miller & Jim BarefootBonnie & Daniel MurphyMartha MurphyKatheryn & Otis orthingtonCathy & Patrick OberAnita & Tom OgburnDenni PeeblesSandra PhocasLinda PreschleDeborah & Tim PyaJanet RayRobert Riehle, Jr. Teresa RiggsLorraine & Richard RogersLiz & Alex RolandCarolyn Sakowski & Alton FranklinBenjamin SayersDenise SegravesJack SmootLindsey SnowLynn SouthernEleanor & Michael StollerMaria Szewczyk & John BurkartCatherine & William TellerJason ThielLee & Myles ThompsonLaura & John WarrenRichard WattDonald WheelerJulie Whittin onSusan WilesEmily & Ed WilsonRobin & Lee WoodardEva WuDebra & Lindsay YanceyNancy Young$50+Marianne BachBeth BaldwinSarah BarbourLouise BazemoreBeth Bealle & Diane SpaughDaniel BeermanAnn BogardSandy & Bill BroadwayMargaret & Daniel Brock, Jr. Ian BurkePhyllis CaldwellDon CallaghanEugenie CarrJoyce & Ben CarsonDaniela CavalleroJeff ey CichyKim CranfordTammie Crede WeiglHolly DanielMichele DebaughDeanna DebrechtChad Thomas DetroyePam DiggsElyn DortchChris DoyleLucinda DragoLaura & Brendan DuganNathan EbersonKay & Ben FlyntWhitney FrackElisa GerenConstance Fraser GrayCatherine GreenLaurie GrierNatalie HardingDerrick HargroveSamantha HarlowCynthia & Martin HartmannMaria HensonChris HodgesJim HoriganMarianne JohnsonAllen JonesKamille JonesCrystal JoyceBea & Mike KellerKelley Kenner-PatridgeBarbara Clodfelter KirbyCatherine KorzenValerie LecoeurNicole LehmanAnna LogemannAnna LongStephanie LoveJennifer LydayCarlyle MartinElizabeth MartinTheresa MatthewsKirby MatthewsNancy MattoxCarolyn & Bill McCallDorothea McCollumKay & George McKnightGayle & J. Wayne MeredithMarianne & John MeyerJacqueline MilamGary MoonanJudy MountjoyAlice Neece Mine & Mark MineCailey NeuschaeferJennifer O'ReganVirginia ParksTiffany ParmsMika Payden-TraversJay Pierson-MoonanBarbara PittmanJodi PreslarPaige ReederLynn & John RoachVicki RobinsRobert RobinsonJackie RountreeHerman SchmidVicki & Steve SchwartzRachel ScoDavid ScruggsLynn & Scott SegalFran SheltonSara SinalMary SmoakSuzette & Bob SouthernRegula SpottlCelena & Mike StewartCarol StromCynthia and Danny ThomasMary TribbleJoy Vermillion Heinsohn & Ben Heinsohn Lauren VocciJane WeissLara & Fletcher WilsonSusan Wilson & David ClarkTanya Zanish-Belcher & John BelcherPhoebe Zerwick
Page 14
Kitt Barbourby Sarah BarbourMarta Bladesby Ginger Baldwin; Lucinda Drago; Mary Dudley; Gail Fisher; Nancy Ma ox; Byah McGeeGuy Blynnby Sharon Johe; Carly Cohen & Aaron BlynnMartin J. Condon, IIIby Kate CondonTrip Dennisby Kitt & Chuck JordanJulia Doubby Ginger Baldwin; Lucinda Drago; Mary Dudley; Gail Fisher; Nancy Ma ox; Byah McGeeJim Foxby Dana & Darin Jordan; Alice Neece Mine & Mark Mine; Waldrep Wall Babcock & Bailey PLLC; Marilyn & William WoodRichard Joheby Sharon Johe Ann Kellyby Elyn Dortch; Bonnie & Daniel Murphy Rebecca McKnightby Cynthia BarberSusan Overmanby the Dudley Shearburn Literary Society; Fran SheltonLemian Alice Piersonby Jamie Rogers SouthernBurdett obinsonby Lisa DavisBett Rogersby Jamie & Ed SouthernLellen Sandersby Natalie HardingSandra W. Tarteby Kendall Tarte & Stephen MurphyDONATIONS GIVEN IN MEMORY OFTHE 2004 SOCIETYThe 2004 Society honors individuals who donate consecuti ely for four years or more. 2004 is a special number as it marks the year of our fi st Festi al of Books & Authors. 2004 Society members receive special perks throughout the year. We are grateful for the continued su port of these individuals. Lindsay & Regan AdamsonGayle Anderson & Carey HedgpethCarol & Rick AtwaterBett & Richard BarneBetsy Barre & Justin sareyEdie Barrett & rake DennisEileen & Bill BlancatoFrances BrennerWendy & Mike BrennerBecky BrownKaren BussSusan & Jack CampbellAnne & Glen CannonJane & Richard CarmichaelClaire & Hudnall ChristopherBarbara & Thomas CochranKate CondonSusan & Mark CongerMargaret Couch & Tod SerfassDonna & Wic CowdenTeresa & Doug DampierCarol & John DanforthJean C. DavisMarina & Wesley DavisMary Ann DolisterPhyllis DunningArlene Edwards ThompsonColleen EdwardsJeannie & Barrett vansGail FisherHollie & Justin omezJennifer & Paul GrosswaldJulie GrovesPeter Hairston, Jr. Mr. & Mrs. Jim Hanes, IIIDebora D. HarlleeMarge & Dennis HatchellTina & Brian HeelanGinger Hendricks & Heath CombsMargaret & Gary HerringJulie & Warren Hu onCarol IngramKitt & Chuck JordanCrystal JoycePam & Fred KahlMarie & Mike KellerSandra KopchikJudith KuhnSuzy & Arthur KurtzNancy & Tim LaheySarah LancasterDenise & Paul LaurienJodi & Robert LinganAdrienne Amos LivengoodJoe LoganMartha & Ernest LogemannCharlie & Janice LoveStephanie LoveTheresa Matth wsSarah McCoy & Brian WatermanEllen & Steve McCulloughDianne & Barry MillerMegan & Philip MulderCathy & Patrick OberSam & Marc PearceSarah PetersonJackie & Jim PiersonKathy & David PoundsDeborah & Tim PyaBarbara Ra aldiniPaige & James RaperAnna Reilly & Matth w CullinanTeresa RiggsLorraine & Richard RogersCarolyn Sakowski & Alton FranklinBeth Seufer Buss & Clint BussLenore ShameyJamie Rogers Southern & Ed SouthernLynn SouthernSandy & Bill SteeleCelena & Mike StewartRachel & Danny Stinehel erEleanor & Michael StollerPatrick SweeneyMarcia SzewczykMarybeth & McLain WallaceLaura & John WarrenJudy & Bill WatsonEmily & Ed WilsonLara & Fletcher WilsonEileen Wilson-Oyelaran & Sope OyelaranLara & Fletcher WilsonMichelle & Paul YeltonTanya Zanish-Belcher & John BelcherBookmarks continues o help local school's keep their media resource centers up to date with the latest books through their $500 shopping sprees.
Page 15
Bookin' Book Clubby Hilda CoxBookmarks Sta & Volunteersby Ginger Hendricks & Heath CombsMargaret & Bennie Breeceby Kitt & Chuck JordanJudy Bullardby Kitt & Chuck JordanJane Carmichaelby Denni PeeblesSusan Congerby Pam & Bill BallLisa Credeby Tammie Crede WeiglNancy & Bucky Dennis, and Family by Kitt & Chuck JordanSuDonna & Julian Drakeby Lisa & Cli PurcellJoe Dudleyby Dolly DudleySusan Edge & Don VonCannonby Ann LongKatherine & Bobby Edwardsby Lisa & Cli PurcellSidney & Danny Falkenby Lisa & Cli PurcellElla Fawleyby Kitt & Chuck JordanApril & Jeri Fosterby Kitt & Chuck JordanSara & Michael Foxby Kitt & Chuck JordanMargaret Fultonby Ken RhinehartStacey Gambleby Jackie & Jim PiersonSylvia Gilleyby Kitt & Chuck JordanClaire Gladding, A Former School Librarianby Sam GladdingJennifer Grosswaldby Felice & Richard Brenner; Rosalie Horton; Lisa & Cli PurcellJulie Grovesby Pam & Bill BallDarlene & Larry Handby Kitt & Chuck JordanChrissy Hardyby Mary Ann DavisDebora D. Harlleeby Edie Barrett & rake Dennis; Eva WuEmily Harrisonby Lynn & John RoachVictoria & Robert Helmsby Kitt & Chuck JordanGinger Hendricksby Dianne & Barry MillerTrina Jacksonby Joy & Jack Van ZandtKitt Jordanby Gail ZimmermannRochelle Kramerby Katherine & Stephen Burton; Eileen SchneiderJanice & Charlie Loveby Catherine & William Teller; Whitaker DesignsKim & Will Mannby Lisa & Cli PurcellEugenia Peskoeby Kitt & Chuck JordanJackie Piersonby Barbara GarhardEric Richardsonby Chad Thomas Detroye; Nicole LehmanAnna Rubino & Dick Schneiderby Ginger BaldwinVicki Schwartzby Steve SchwartzSara & Bruce Smithby Ellen & John DoyleJamie Rogers Southernby Mary Ann Davis; Ginger Hendricks & Heath Combs; Barbara Luffman; Janet RayPeggy Taylorby Kitt & Chuck JordanTuesday Morning Book Groupby Lara & Fletcher WilsonKevin Watsonby the Women's Club of Winston-SalemEmily & Ed Wilsonby Kitt & Chuck Jordan; Marybeth & McLain WallaceRobin & Lee Woodardby Lisa & Cli PurcellWRITS Book Clubby Joy & Jack Van ZandtTanya Zanish-Belcherby Jean & Ken Johnson; Mika Payden-Traversby Ellen & John DoyleDONATIONS GIVEN IN HONOR OFBooksellers Lauren and Jessica celebrated Halloween by dressing up as their favorite children's book characters.
Page 16
BOOKMARKSNC.ORG 336.747.1471634 West 4th Street #110, Winston-Salem, NC 27101Hours: Monday–Saturday, 10 a.m.–9 p.m. and Sunday, 12 p.m.–6 p.m.